Pequea Hay Rake Equipment
Pequea manufactures a complete line of hay rakes for demanding agricultural applications. Our products balance advanced engineering with real-world insights to deliver performance for today's professionals. Pequea is a dedicated company with a few small product lines — as a result, we're able to actively solicit feedback from our users and incorporate it into our designs.
You'll see the difference in a Pequea hay rake when it comes to productivity, ease of use and ongoing maintenance requirements. Learn more below, or contact a dealer in your area.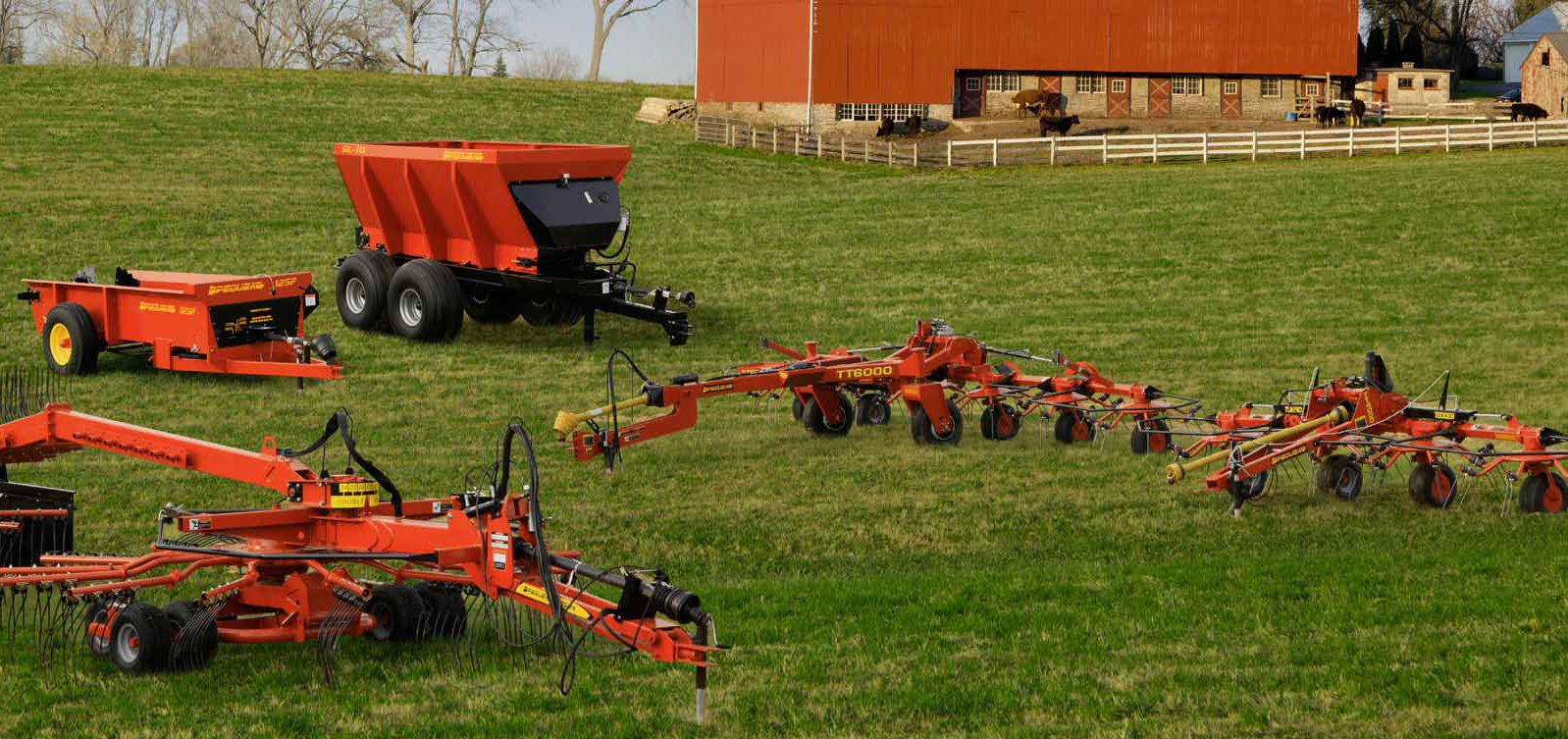 Rotary Hay Rakes
Pequea's selection of rotary hay rakes includes:
HR939: The HR939 is our smallest model, offering simplicity and American-made Pequea quality in an affordable package. The HR939 is a single-rotor rake with a 9′ clean-sweep and 11′ working width — perfect for small to mid-size farms. Premium standard features such as a pair of walking beams and a lift cylinder improve maneuverability in any terrain.
HR1140: The next step up in our hay rake lineup, the HR1140 has a clean sweep raking width of 10′ 6″ and a working width of 13′ that will allow you to cover more ground in less time. Flotation tires come standard, as does a lift cylinder, a tilt cylinder, tandem walking beams and removable tine arms for transport and storage. Together, this impressive feature set delivers improved productivity and performance.
HRS15: Our largest single rotor hay rake, the HRS15 has 13 arms, delivering an extra-wide 15′ working width and a clean sweep of 12′ 6″. The HRS15 includes all the features of the HR1140.
HR24TS: The HR24TS is our dual-rotor hay rake. It's capable of delivering a working width up to 28′, making it suitable for raking two windrows at once or one large windrow in one pass. Whatever the job demands, the HR24TS' durable construction will deliver performance you can count on.
Wheel Rakes
Wheel rakes are an alternative to rotary rakes — without gearboxes, they have fewer wearable parts, which requires less maintenance over time. Wheel Rakes provide faster raking and more raking width per dollar spent. For the right application, they're an excellent option.
To meet this market segment, Pequea manufactures two wheel rake models:
1820HD: The 1820HD is an overhead frame wheel rake capable of raking up to 29′ swathes of hay into a single windrow. Count on it to deliver quick, high-capacity raking without compromising quality.
MCR: The MCR — or Mid Cap Rake — is Pequea's carted wheel rake. It offers 8, 10 and 12 wheel configurations and a working width up to 23′ and has a modular design that's adaptable to a variety of applications.
See a Pequea in Action Today
All Pequea rakes are made in the USA and backed by our manufacturer's warranty. We also stand behind all products with parts and service support for as long as you own your purchase.
See for yourself why Pequea is the hay rake manufacturer of choice for today's demanding farmers. Use our Dealer Locator to find a representative near you and learn more.