Pequea Hay Tedders
Pequea hay tedders play a crucial role in improving hay quality and helping farmers meet their productivity benchmarks. We offer a range of products for every application — from our unique fluffers to our heavy-duty four, six and eight-rotor models. No matter what your production needs are, you'll find that Pequea offers excellent value and performance.
Like all Pequea products, we manufacture our hay tedders in our New Holland Pennsylvania facility, using quality components and expert craftsmanship every step of the way. Read on to learn about our lineup, or visit a dealer near you for more information.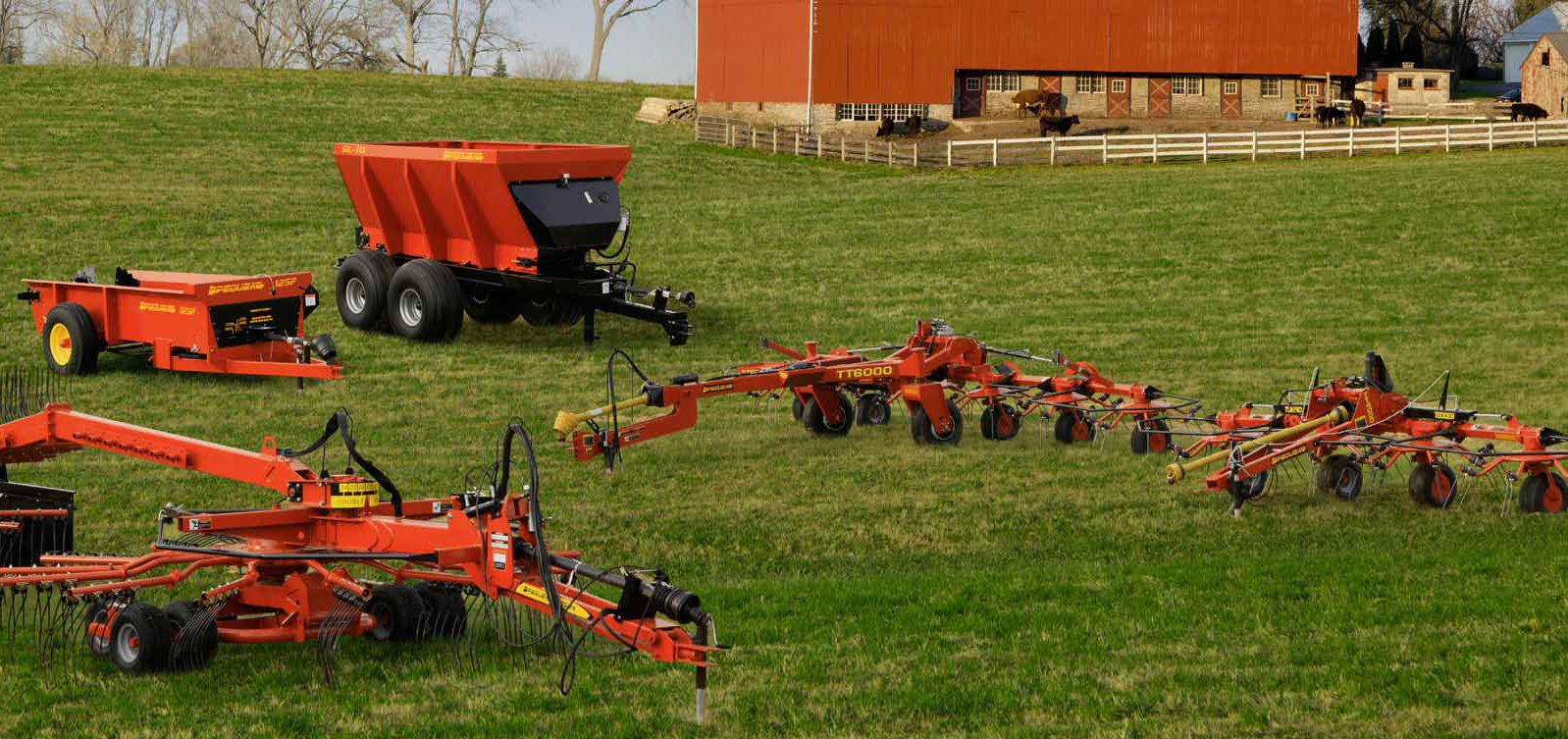 TurboTedders™
For more demanding applications, upgrade to a Pequea TurboTedder. We offer the TurboTedder in four, six and eight-rotor variations, capable of tedding 18′ 2″, 27′ and 35′, respectively. All models feature fully enclosed oil-bath gearboxes, heavy-duty hubs, large tires and a standard tilt cylinder. The TT4101 and TT6201 models include full hydraulics for tilt and transport. The TT6101 and TT8101 include a transport cart for extended road travel.
The TurboTedder stands apart from other rotary tedders thanks to its round tube arms, carbo-austempered finger joints and asymmetrical tine configuration. Thanks to these and other enhancements, Pequea tedders deliver clean, efficient sweep action even in the heaviest hay.
X-Series Tedders
The Tedder X-Series contains two models — the 26X and the 46X. More economical than the TurboTedder models but boasting many of the same features, Pequea's X-Series is ideal for anyone looking for a reliable tedding solution at a value price without cutting features. An affordable price point makes these models accessible to almost anyone — check out detailed specs on individual product pages.
Fluffer Tedders
Pequea's Fluffer Tedder line provides gentle aeration while keeping leaf damage to a minimum thanks to a unique design that lifts and releases hay forage and automatically adjusts tine angles as bars turn. We offer this product in 7′ and 9′ wide versions — both come with eight adjustable reel settings, a double belt drive, rubber-mounted fingers, and other premium features. Easy to use and engineered for minimal maintenance, Pequea Fluffer Tedders help hay dry faster and cure more uniformly.
All of our Fluffer Tedder models support both PTO and ground-drive.
Why Pequea?
Pequea is a proud American hay tedder manufacturer with a reputation for quality products. We build our tedders with pride and stand behind them with some of the best warranty coverage in the business. We focus exclusively on a few small product segments — as a result, we're better-positioned to listen to and incorporate customer feedback, leading to a product that reflects the realities faced by today's working farmers.
Choose a Pequea rotary or hay fluffer tedder and enjoy improved productivity, lower maintenance requirements and better quality hay. Financing is available for qualified applicants — we also offer comprehensive service, replacement parts and other ongoing support through our extensive dealer network.
Contact a Local Pequea Representative to Learn More
We're convinced it won't take long to see the benefits of choosing a Pequea. Our TurboTedder, X-Series and Fluffer Tedder models are available for sale through our worldwide dealer network. Find a representative near you using our Dealer Locator to request a quote or schedule a consultation.