Buying vs. Renting Agricultural Equipment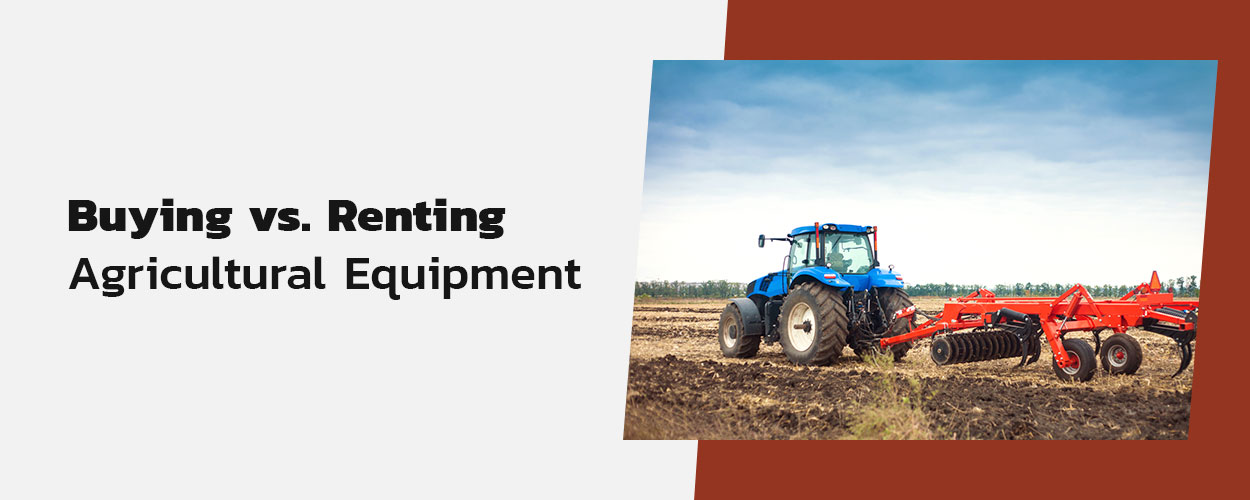 Those who are farmers know firsthand how much labor is involved in the upkeep and maintenance of farmland. The amount of work that goes into taking care of pastures and other areas of a farm can be time-consuming and costly. One of the biggest expenses many farmers face is the cost of agricultural equipment.
A common dilemma farmers run into is whether they should rent or buy their farm equipment. When deciding which option is right for you, you should keep several factors in mind. Before purchasing or renting farm equipment, it's essential to understand your budget, the maintenance involved, your needs and the advantages and disadvantages of each option.
What to Consider When Looking for New Agriculture Equipment
As with any substantial purchase you make in life, understanding the advantages and disadvantages of leasing equipment vs. buying equipment requires some thought. Every farmer wants their farm to succeed, and much of that success has to do with the machinery they use on a daily basis. Whether you're leaning toward agriculture equipment rental or buying your machinery, consider the following to make the most informed choice you can.
What Can You Afford?
Depending on the kind of farming you do and how much profit you see, you may be on the fence about purchasing agricultural equipment. In addition to the initial cost of agricultural equipment, you must consider the cost that goes into the maintenance and repairs of the machinery. Each option has its pros and cons when it comes to price.
While buying equipment outright requires a significant upfront investment, you own it and must pay to maintain it until you decide to sell it or trade it for a new model. Comparatively, renting is often the less expensive option, allowing you to use certain machinery for short times, which is best for specific projects. Though maintenance isn't your responsibility, you don't own the equipment and must return it.
Be sure to outline a budget for what you can afford so that you can make a financially sound decision.
Can You Handle the Maintenance?
Depending on the quality of the agricultural equipment you purchase, maintenance and repairs can be overly expensive, and depending on your capabilities, they can also be time-consuming and stressful to manage. Consider each of the challenges involved in caring for different types of agricultural equipment, and keep in mind whether you can manage any maintenance that may be required.
The best way to avoid investing in machinery that requires constant upkeep is to buy from a reputable farm equipment dealer. This way, you'll receive high-quality, new equipment, often with warranty that helps you offset specific costs that might arise. Further, you can enjoy financing options that make buying equipment easier on your wallet.
What Type of Equipment Do You Need?
The type of agriculture machinery you need can have a significant impact on whether you should rent or buy. Consider if you need specialized equipment that can be difficult to find. Additionally, think about whether the piece of equipment is in high demand, and how often you expect to use it. These findings will give you a fuller picture of which option is best for your farm's needs.
What Are the Priority of Your Needs?
While you contemplate whether buying or renting agricultural equipment is right for you, prioritize your needs. Maybe you've always rented equipment, and now, you'd like to upgrade to your own advanced model, so buying is the better choice. If you want to test a new process on your farm, such as a new planting method, a rental could be helpful in the in-between.
A smart approach is to write down your list of priorities, so you can physically move them around and rank them. As a result, you can see whether buying or renting would fulfill most of your wants for your farm.
Pros and Cons of Buying Farm Equipment
Most often, you'll find that buying equipment is a beneficial investment in your farm operation that pays off in the long run. By purchasing new or used gear for your farm, you can accomplish all of the tasks you need on a daily basis without needing to return it. However, a couple of cons exist for buying, which are key to consider, too.
Pros
If having control over your equipment and how it's operated is important to you, buying is the best option, as you have full freedom over how you use your equipment for your farm. If you know you need the machinery year-round or can rent it out for profit during the off-season, buying your own equipment is a fiscally responsible choice. Further, purchasing equipment means you can always sell it later to put money toward a new model.
Overall, purchasing farm machinery is necessary for the average farmer — you need a few pieces of quality operating equipment to till, plow, plant and complete other essential duties during the season. The reality is that renting equipment is very unlikely to help a fully operational farm run properly.
Cons
Like anything, buying equipment can come with a downside or two. The most notable is that purchasing agriculture equipment can be expensive. The average cost of farm equipment varies based on type and model, but you can expect to pay from a few thousand to hundreds of thousands of dollars for your new machinery. While that can be a difficult hurdle for some farmers, know that payment plans exist to help make the initial investment easier.
Pros and Cons of Renting Farm Equipment
There are a few crucial advantages and disadvantages associated with renting agricultural equipment you should consider.
Pros
The most significant advantage of renting farm machinery is there's no long-term commitment involved. If you only need a piece of machinery for a few months for a specific project, renting could be your best option. Additionally, renting equipment allows you to test it out before you decide to commit to a purchase, ensuring you don't need to deal with selling your equipment if you decide a different option would be better.
Cons
Ultimately, renting farm machinery is only suitable for certain situations, and isn't the best idea when you're looking to outfit your farm with a permanent fleet of equipment.
A big disadvantage to renting equipment some farmers don't think of is you often don't always have the authority to operate the machinery as you choose when you rent it. In other words, you can only use it according to your rental agreement. Another downside to renting equipment is that you miss out on profiting from the equipment by either renting it out during the off-season or selling it.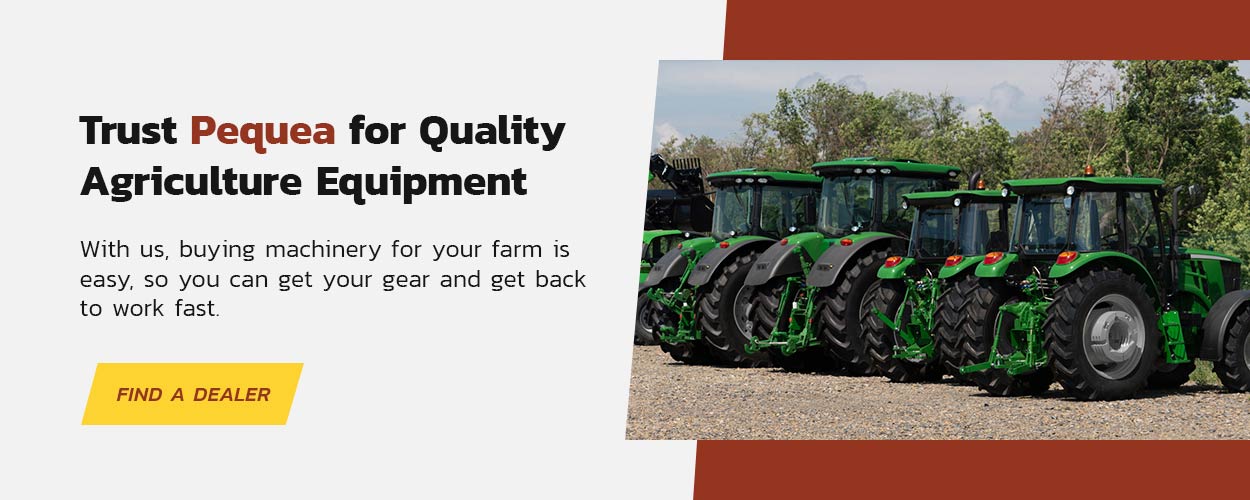 Trust Pequea for Quality Agriculture Equipment
Making the choice between renting or buying your farm equipment can be tough. While renting might be the best choice to tackle projects that only last a few weeks long, you'll likely find much better value in buying farm equipment. Pequea is here to help make the decision simpler.
Founded in 1970, Pequea manufactures various kinds of agricultural equipment, made in the United States. Our products are made to last, ensuring you get the most out of your investment. With us, buying machinery for your farm is easy, so you can get your gear and get back to work fast.
From spreaders to chippers and more, Pequea has exactly what you need to outfit your farm with the machinery you need to complete your work. Find a dealer near you to get started.