G400
The G400 Grape Gondola by Pequea has been meticulously designed and constructed from high-grade, 304 stainless steel, renowned for its exceptional resilience and food-safe properties. This ensures the gondola not only lasts for a lifetime but also maintains the pristine quality of the crop it carries.
The Pequea line of grape gondolas include two varieties, the G300 and G400 models. The G400 design exhibits an even larger box size than the G300, measuring at approximately 108.15 inches in length, 53 inches in width, and 102.5 inches in height. This capacity permits modern vineyards to transport four tons of grapes in a single trip, significantly enhancing operational efficiency and productivity.
All of our grape gondolas have been designed with keen attention to the rigors of the vineyard. It's not just about the capacity, but also about the ease and safety of operation. The unit is equipped with four Pioneer Ends hydraulics, providing extraordinary strength and stability. This makes it an indispensable asset during dumping, reducing the risk of spillage or loss and ensuring a seamless transfer of the grape harvest.
Pequea's Grape Gondola is not just a vessel for carrying grapes; The 304 stainless steel extends far beyond durability. Given its food-grade rating, it allows for the transport of a variety of crops beyond just grapes. From apples to zucchinis, the gondola can carry any crop while preserving their freshness and quality. This versatility makes it an invaluable asset to farms that grow multiple crops, offering a one-size-fits-all solution for harvest transportation.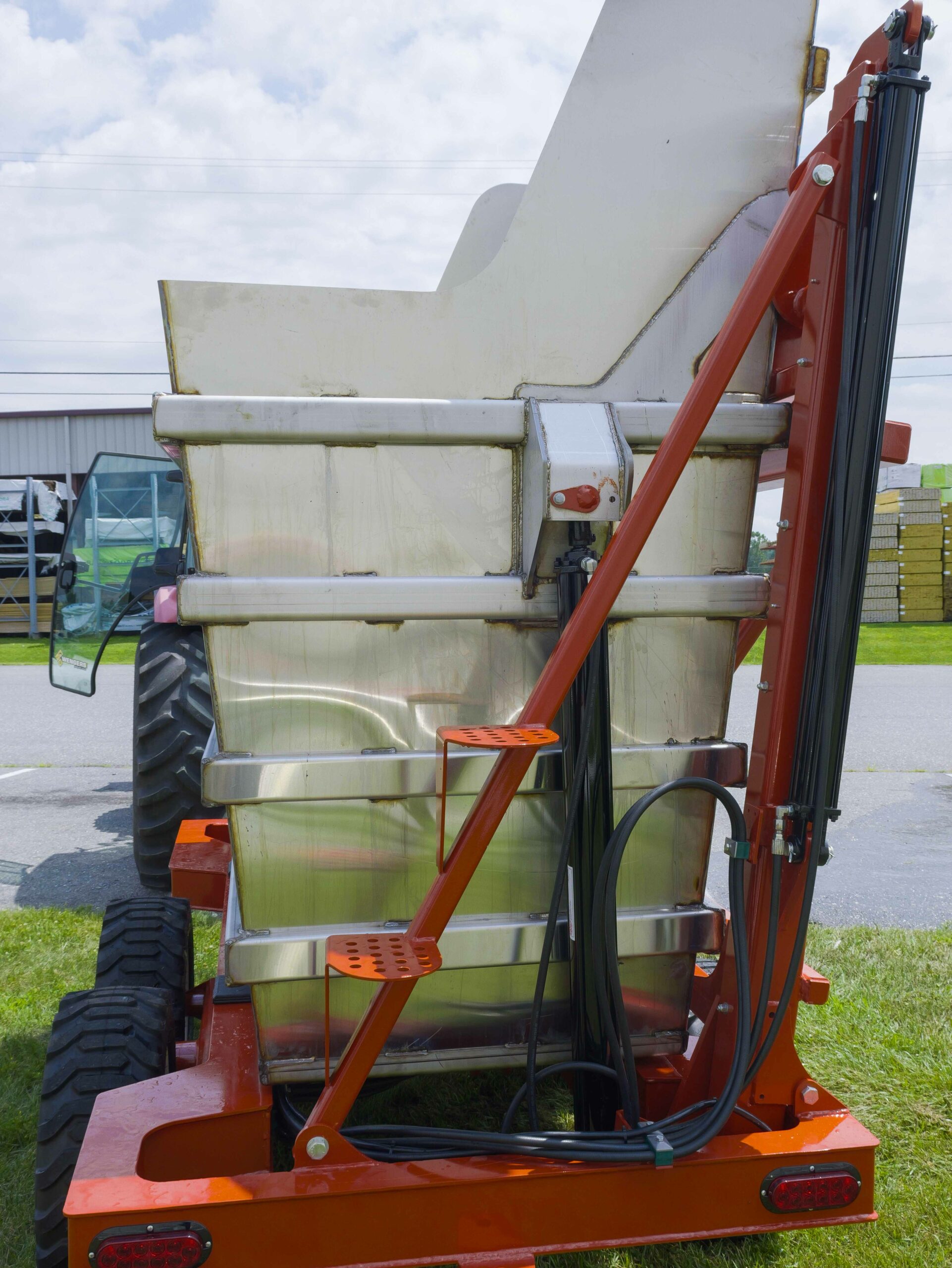 | | |
| --- | --- |
| Box Size | 108.15″ x 53″ x 102.5 |
| Overall Width | 67″ |
| Overall Length | 14′ |
| Outside to Outside of Tires | 67″ |
| Adjustable Dumping Height | 123″ |
| Hydraulics | 4 Pioneer Ends |
| Drain Plug | 2″ |
| Box Construction | Foodgrade 304 Stainless Steel |
| Wheel Spindles | 2″ with 6 Bolt Hubs |
| | |
| --- | --- |
| Suspension | Walking Tandem 2-3/4″ Spindle |
| Tires | 27 x 10.5-15 Industrial Skidsteer Tires |
| Capacity | 3 Tons |
| Weight | 3,800 lbs |
| | |
| | |