Pequea Big Dump Trailers
These low profile dump trailers offer the ability to haul your equipment to the job and then use it to fill the dump body with a monster payload.
Available in lengths of 16′ and 18′ with a GVWR of up to 25,000 (with dual axles), the Big Dump is no joke. It is available in a bumber pull or gooseneck configuration. Features include a scissor hoist with dual cylinders and a hydraulic gate that latches itself when closed.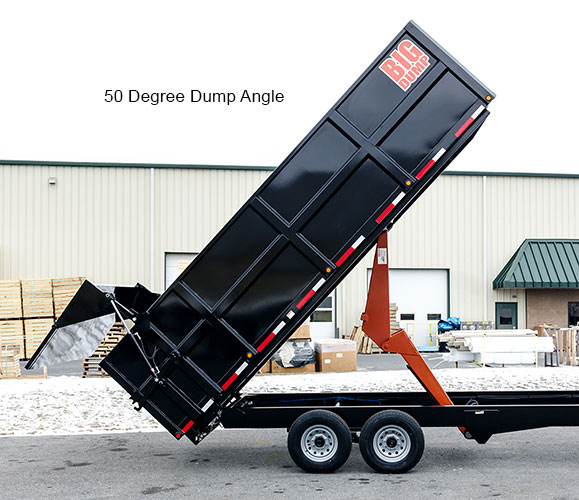 | | | |
| --- | --- | --- |
| Bed Length | 16′ | 18′ |
| Bed Width | 91" | 91" |
| Bed Heigth | 39" | 39" |
| Struck Capacity | 485 cu ft ( 18 cu yd ) | 546 cu ft ( 20.2 cu yd ) |
| Side Panels | 4′ | 4′ |
| Lift | 12 ton scissor hoist | 12 ton scissor hoist |
| Dump Angle | 50° | 50° |
| Main Frame | 10" x 15.3 lb Structural Channel | 10" x 15.3 lb Structural Channel |
| Axles | Available up to 25,000lb GVWR | Available up to 25,000 GVWR |
| Suspension | Slipper Springs or Torflex | Slipper Springs or Torflex |
| Hitch | Aframe or Gooseneck | Aframe or Gooseneck |
| Coupler | Adj. 2 5/16" Ball Coupler | Adj. 2 5/16" Ball Coupler |
| Jack | 10,000lb Drop Leg | 10,000lb Drop Leg |
| Approx Weight | 6,500lbs | 7,300lbs |