Spreaders
Pequea spreaders offer excellent performance and ease of use in a package that's easy to maintain — and easy on your budget. Our products are made-in-USA and feature quality construction along with a range of optional attachments for your needs.
Pequea spreaders help distribute lime, manure, fertilizer and many other products. Explore our products below, and if you're unsure which spreader is best for your application, contact a dealer in your area for assistance.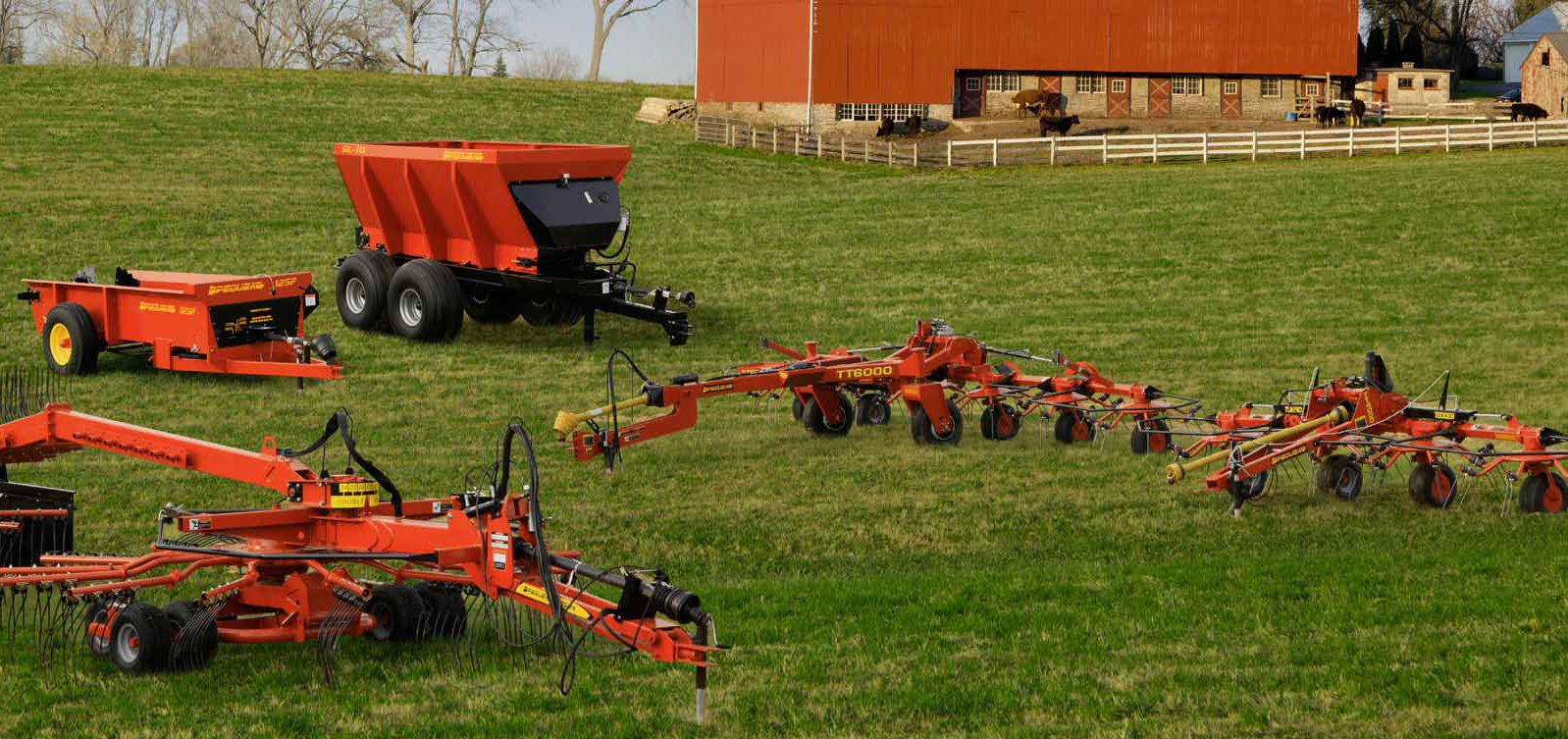 Our Products
Pequea manufactures the following spreader types:
Compact manure spreaders: Pequea compact manure spreaders have a small footprint that's perfect for small farms, stables and large property owners. Several models are available, with capacities ranging from 25 to 80 bushels. All offer compact maneuverability, durable steel construction and a wide range of available beaters and options that make quick work of stall clean-outs and spreading.
Box manure spreaders: For small commercial farms and large horse operations, upgrade to a Pequea box manure spreader. Our products offer capacities ranging from 125 to 250 bushels. All products feature a fully welded unibody steel box and a tongue and groove poly floor for long-term durability. Options include a top beater, a hydraulic end gate, a fine spread pan and, on the 250P, a tandem axle.
Litter/poultry spreaders: One of our newest product lines, the SP Series of poultry spreaders includes options for every application. We offer our poultry spreaders with 18′ and 22′ long hoppers, with a truck-mount or tandem axle configuration. Hauling capacity is as high as 580 ft2, while precise controls and a variety of options let you adjust spreading performance to your needs.
Lime spreaders: Pequea lime spreaders deliver high-capacity spreading for agriculture and large-scale landscaping applications. We offer two models — the 10 yd capacity SL10 and the 6 yd capacity SL6. However, both models are customizable with options such as a Digi-Star automated rate controller system, a stainless steel hopper and spinner and more.
Vineyard/orchard spreaders: Our vineyard/orchard spreaders feature a narrow profile for convenient maneuverability between rows of trees or vines. All four models also boast a large-capacity hopper to maximize the time required between refills. We engineer our products to provide you with control and convenience.
Fertilizer spreaders: The SF5 is Pequea's unique fertilizer spreader. Its proprietary patent pending, conveyor belt system is adjustable to drop material at different widths and rates, giving you efficient coverage on rows up to 20′ wide. The rear conveyor contains a unique safety feature that rotates when an object touches it to prevent damage to crops.
Visit individual pages to read detailed specs and download literature relating to our full line of agricultural spreaders and related products. For more information — or to arrange a demonstration and request a quote — get in touch with a Pequea representative. Contact a dealer near you for assistance.