Agriculture Equipment
The right agriculture equipment can make a huge difference in the life of your farm. When you work hard to make a living, quality ag equipment can save you money, make you more efficient, and help you extend the life of your machines. Pequea is a leading agricultural machinery manufacturer in Lancaster County, Pennsylvania. Our products are created with input from farmers as well as engineers, to give you exactly what you need.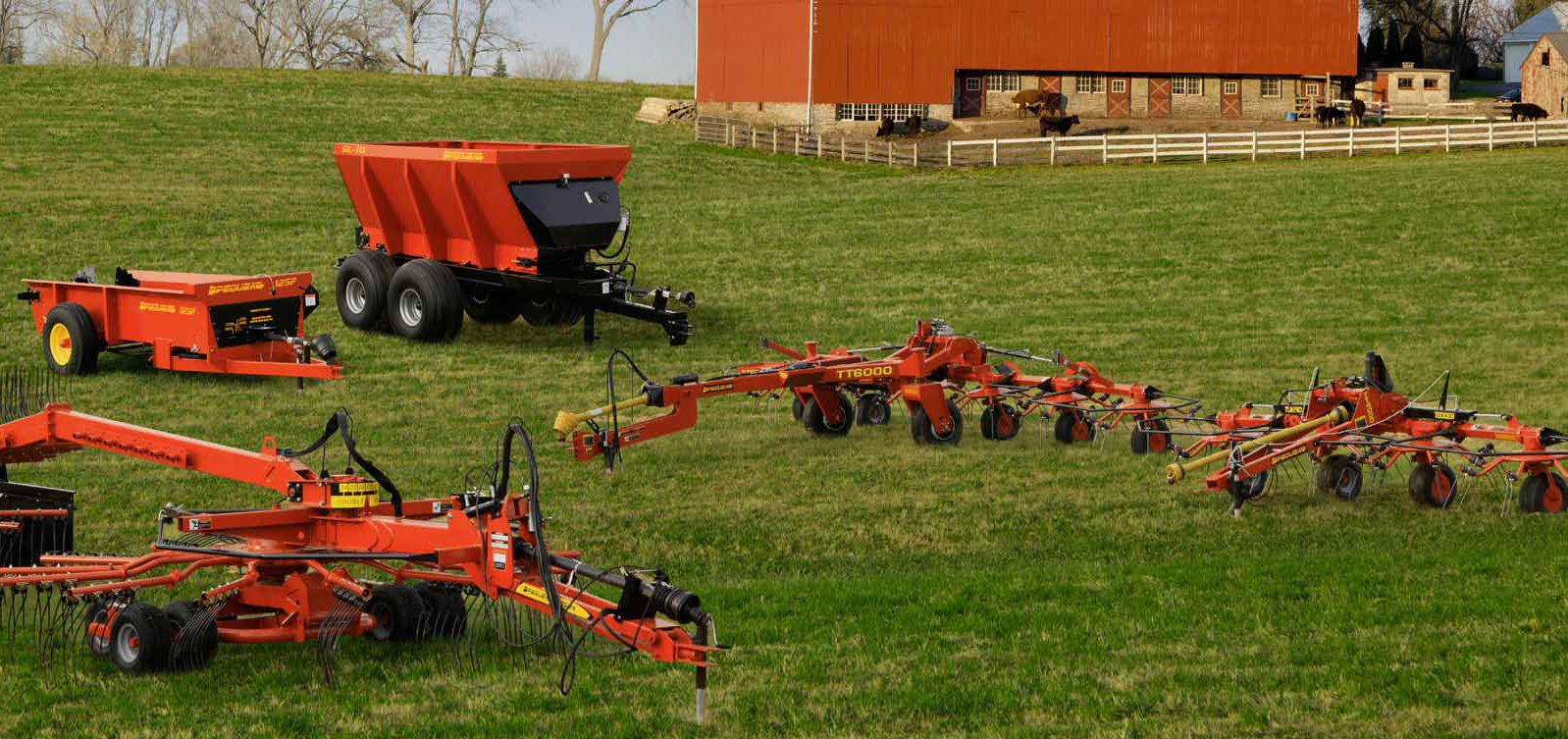 Equipment to Get the Job Done
Your land is important to you, so it's also important to us. We've refined our products over the years with new upgrades and innovations to treat your land with the respect it deserves. Whether you need a hay tedder or a spreader, Pequea — and the agricultural equipment suppliers we work with — are here for you with the quality you're searching for to keep your farm running.
Our products include:
Hay tedders: Our Turbo Tedders, X-Series Tedders, and Fluffer Tedders have essential features such as large tires for smoother field travel, two-rotor forms for smaller fields, and control over how your hay dries.
Hay rakes: Pequea's line of hay rakes includes our rotary rakes, carted rakes, and the Windrow Pro. Our HR-TS24 dual-rotor rake is an especially versatile machine that can adapt to your needs.
Spreaders: All of our spreaders have a "T-Rod" web chain that gives you three times the fatigue life compared to other chains. The incredible value of these spreaders means you also get standard features to make you more efficient.
Hay handling: You need to move your hay to sell it and turn a profit. We have a variety of round bale transports and wagon gears to get the job done. For example, our Round Bale Transport has a low profile and front dolly wheel turning system to move easily in tight spaces.
Chippers: You need speed and endurance out of your chipper, which is exactly what the Pequea CX-Series Chipper provides. It's perfect for commercial use or even simply cleaning up your farm.
Parts and Service
At Pequea, we believe in being more than just an agricultural machinery manufacturer. We provide parts, service, and support for your new equipment. Our limited warranties will give you the confidence you need to purchase new equipment. We have manuals and instructions for our products, so you never have to worry if something goes wrong. We even have a service department that you can contact whenever there's a problem. We also have Pequea trailers to haul machinery if needed!
Choose Pequea as Your Ag Equipment Manufacturer
The Pequea name means quality. All of our equipment is made in the U.S. because we have a commitment to local products and our own Pennsylvania roots. Find a dealer near you to learn more about our products.